Dear Friend & Fellow Entrepreneur,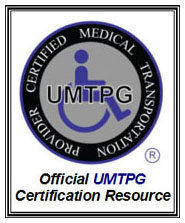 I'm overjoyed to share with you this great NEMT opportunity! I'm about to come into your home or office and share with you some incredible and detailed insider secrets and strategies!

The elderly population is doubling and the medical industry is multiplying! This means that there is so much opportunity in the Non-Emergency Medical Transportation Industry that this really is a Recession-Proof Business!

Regardless of economic conditions, elderly and disabled people need to get to and from their medical appointments! It doesn't matter if the economy is up or down, the weather is good or bad. Patients, hospitals, nursing facilities, dialysis centers, doctor offices and the like all need your services!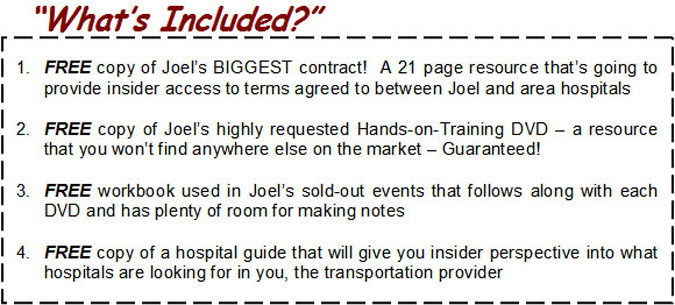 My Million Dollar Seminar DVD Series is a seven (7) disc set that I'm going to ship right to your doorstep via priority mail with the US Postal Service.
You're going to discover all of the incredible ideas, strategies, techniques, and industry insider secrets that I reveal at my live events. Why - because this DVD Series is literally a high quality production of one of my weekend events!
I can assure you that you're absolutely not going to get this information anywhere else. And if you don't believe me, just watch and listen to the previous attendees featured in the video above! Trust me. They say it better than I ever can!
Bottom line, I'm going to show you exactly how to "Put the nuts & bolts of your business together" so that you can thrive in a struggling economy - Guaranteed!



This Is Your Million Dollar Opportunity!
If you're like most entrepreneurs, starting your business with humble beginnings and little if any experience, then this opportunity is an absolute must!
I had no one helping or showing me what to do when I was starting my medical transportation company and I certainly didn't have any ebooks, DVD Series, or Seminars to help educate and provide me with hands-on-training.
Unlike me when I was starting, you're going to avoid making mistakes and wasting hundreds of thousands of dollars through trial and error - Guaranteed!
As many satisfied customers express, "This Million Dollar Opportunity is like getting a pass to the head of the line - the information is just that good, that honest, and that detailed!"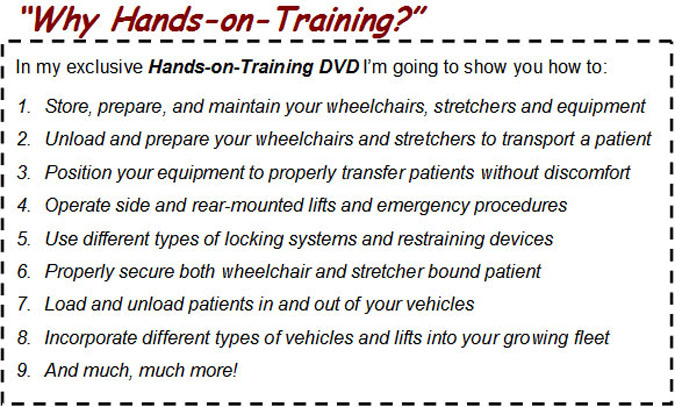 This Series will be first hand experience that you won't get anywhere else! I strongly encourage you to share my training DVD's with your managers, employees, and staff.
Wheelchair transports will be the foundation of your business. Therefore, for the safety of the patient and that of your drivers you need to know how to properly transfer a patient into and out of a wheelchair.
Many people ask about stretcher transports. If you're in a State that allows you to perform stretcher transport - DO STRETCHER TRANSPORTS! Stretchers are far more intimidating in appearance than they are in operation - as long as you know what you're doing!
Personally, I prefer to perform stretcher transports more so than wheelchair transports because stretcher transport can be faster, easier, and much more profitable than wheelchair transports.
You'll want to be well versed in operating both wheelchairs and stretchers. And in my opinion, performing stretcher transports are actually easier and faster than wheelchair transports. But the best part about stretcher transports - they generate more money!
In some instances, stretcher transports can demand 2-4 times as much in profit as compared to a wheelchair transport!
Although you have to be well versed and experienced with stretcher transports, your medical transportation company will be transporting thousands of passengers by wheelchair regularly.
Again, where else are you going to get hands-on-training, from your competitors? Where else are you going to discover these insider secrets, in school? Trust me. These strategies are going to save you considerable time, money, and effort!
Learning from the Best
Since 2004, I've been helping motivated entrepreneurs to start, build, expand, streamline, and increase profitability in their NEMT businesses. In working with clients from all across the country, I can tell you with all certainty that there exists real opportunity in all regions of the country!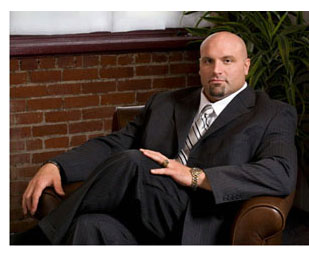 I started with humble beginnings and grew my business into a very lucrative and prosperous venture. My business transformed from a one-man operation into a fleet of vehicles that serviced my NEMT market as well as local businesses, airports, universities, and more through our professional transportation and courier services.
Do you think that my success happened by accident? Of course not! Not even a chance! But the good news for you is that in my Million Dollar DVD Series I'm going to reveal all of the details - both my successes and failures! Now seriously, how many other "gurus" are willing to be so honest to share their losses in addition to their successes?
As I always say, "A smart man learns from his own mistakes. But a truly wise man learns from the mistakes of others. It's a whole lot cheaper and far more convenient!"
You'll also hear some outstanding Q&A - questions that you too probably have! All throughout the Seminar attendees ask questions to include a big Q&A session to close out the Seminar. Remember, you're not only going to be learning from me, but you're also going to learn from others in attendance!
A Priceless Experience
Don't be deterred by reality! I know the economy stinks. It's in the tank. And you don't need to be an economist or have a doctorate to know that the economy is NOT coming back any time soon.
But one of the greatest aspects about this business is that it's literally Recession-Proof! With a medical transportation company you will NOT be participating in this recession!
Why am I so confident in saying that? Because by investing in your own medical transportation company you're literally going to be leveraging two of the fastest growing niche markets - despite the floundering economy!
You're going to be leveraging the medical industry and the elderly population - both booming markets! So it doesn't matter because from here to the end of time, regardless of the status of the economy, people are going to need transportation and medical attention!
As I mentioned before, if you're at all in doubt of the quality of content and material I provide, then just watch the video at top. Like-minded entrepreneurs, speaking from the heart and of experience, share the value and importance of this material far better that I ever could!
And let's not forget - $497.95 is a fraction of attendance and travel expenses. With this Series you can study and review these DVD's as many times as you like. Share them with your spouse, business partner, managers, and employees. Like other business owners do, use them as a training resource.
So if you're ready to start building your own Million Dollar Medical Transportation Company, then stop wasting time and start today!

See you at the Top!
Joel E. Davis
(607) 343-3690
Founder, the United Medical Transportation Providers Group
PS: I'm giving you a FREE copy of my best-selling ebook, "How to Build a Million Dollar Medical Transportation Company," with your purchase of my DVD Series. That's a $97.95 value - FREE! But, make sure that you thoroughly read my ebook prior to viewing my DVD's. My ebook is a foundational resource that you're going to need to understand before you watch my DVD's.